Educational Resources:
Spina Bifida Resources
SCI Resources
Catheter Manufacturers
---
Articles:
Catheter Basics
Urinary Catheters come in a wide variety of sizes and materials (latex, silicone, red rubber, and antibacterial) Catheters are sized using a measurement called French (Fr). French size is a standard for medical tubing outside diameter. Developed by a French physician in the 1800's, it is a measurement of tubing circumference.
You can tell the French size of the catheter by the color of its funnel end.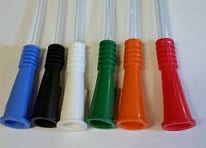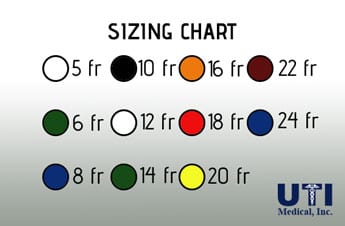 The quality and design of catheters is very important to your long term health. Cheap catheters can cause scarring, and lead to infection.

Consult with your physician about which catheter French size is right for you.
Funnels serve several functions:
Permits the catheter to be attached to leg bags or night bags
Irrigation of the bladder
Used to insert medication into the bladder.
One French is approximately 1/3 of a millimeter 0.013 inch. The larger the French number the larger the outside diameter. Sizes typically range from 5 Fr – 20 Fr.
Size 14 Fr. or size 16 Fr catheters are most commonly used in adults.
There are three different lengths available for catheters: male, female, and pediatric.
Male length catheters are usually 16 inches in length.
Female length catheters range from 6-8 inches in length.
Pediatric length catheters typically range from 8-10 inches in length. Women and children generally use shorter lengths because of their shorter urethral length.